Margaret River is a world-famous surf spot, and it's easy to see why. The 130-kilometre stretch of coastline of Margaret River is home to some 75 surf breaks. There's something for everyone, from novices and those wanting to try out surfing for the first time, to the pros and the local surfers who know all the best spots.
If you want to go for a surf on your next visit to the Margaret River region, check out our list of some of the best Margaret River surf spots ranked from beginner breaks to the best breaks for the experienced surfer.
Margaret River surfing region
The Margaret River surfing region stretches between Cape Naturaliste and Cape Leeuwin. The surfing region here is known as The Capes, and is littered with breaks and rocky ledges jutting out to sea.
Caves Road winds along the coastline with alternating views of the forests, Margaret River vineyards, and the countless surf spots along the way. Such a beautiful part of the world! 
Redgate Beach (beginner)
Calgardup Bay, Redgate Road 
You'll find the best conditions at Redgate Beach in summer when the water is warmest and the swells are calmest. Redgate Beach has some protection from strong winds thanks to its location, so it's worth a look in if other spots are a no-go. A great spot for beginners wanting some practice before moving onto bigger swells. 
Margaret River Mouth (beginner)
Rivermouth Road car park, Prevelly
Surfing in Margaret River doesn't get more iconic than this. A stones throw from Margaret River town, Margaret River Mouth is a popular surfing spot. The river mouth beach is protected in the bay, making it a great spot for beginners.
This spot is usually pretty consistent for being able to catch waves – and the best conditions are when the swell is from the south or south west.
If you visit in the summer, lifeguards patrol daily. Being so close to Margaret River town, it can get busy, so make sure you take care and be aware of your fellow surfers.
Injidup Beach (intermediate)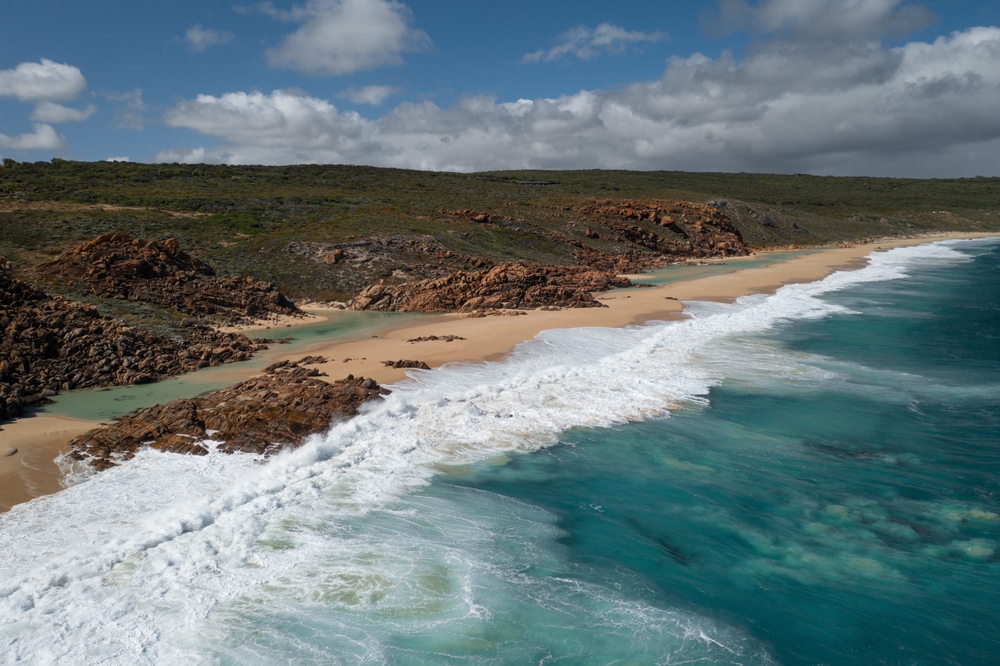 Cape Clairault Road, Yallingup 
Injidup Beach already has so much to offer with its turquoise waters and picturesque rock pools, but it's also a great spot for the beginner or intermediate surfers. This spot is pretty well protected from southerly winds and big swells, but if you want a bit more of a challenge, the offshore reef is more exposed. 
Yallingup Beach (intermediate)
Yallingup Beach Road, Yallingup
The conditions at Yallingup Beach generally offer a pretty consistent chance to surf, no matter your level of ability. Scope out along the beach to find a break that suits your skill level.
Sheltered by a reef, the main break at Yallingup Beach also offers good conditions for swimming for those that don't want to get out on a board.
Be aware, Yallingup Beach can get busy – especially in the summer months – but it wouldn't be a list of Margaret River surf spots without it!
Main Break at Surfer's Point (experienced)


Surfer's Point Road, Prevelly
The annual Margaret River Pro is hosted at this break, just south of the river mouth. Expect big waves up to 20-25 feet, best left to the experienced surfers. However, if you're not up for surfing the big waves here, spectators are welcome for the Margaret River Pro, or keep an eye out from June to December which is whale watching season.
It's waves like this that have drawn the eye of the world's best surfers to the Margaret River surf region.
The Box (experienced)


Surfer's Point Road, Prevelly
Located north of the river mouth, across the bay to the Main Break, the Box is another spot best left to the pros. This pretty intense reef break is best experienced with a south west swell and easterly offshore winds.
North Point (experienced)


Cowaramup Bay, Gracetown
Gracetown lies about 15 minutes north of Margaret River town, making North Point a popular surf spot for advanced surfers, especially when Main Break doesn't have the best conditions. 
Best conditions are generally found in spring, or with good swell in the early winter, around March to May. North Point is not for the faint-hearted and is best left to the experienced surfers. However, nearby South Point can be found on the other side of the bay, and can cater to those still trying to improve their surfing game. 
Surfing Margaret River
The surf in Western Australia can change very quickly, so always take caution when out in or on the water. If in doubt, check in with the locals or lifeguards, or adventure out somewhere you feel a little more confident if you're still finding your feet. 
Planning to test out the best Margaret River surf spots on a trip to the region? Make sure to check out our Margaret River tours from Perth. At Harvest Tours, we offer a convenient way of travelling to Margaret River and touring the sights – all while getting a chance to see why Margaret River is so well-known for being a spectacular spot to surf.