With dozens of wineries spread out over the Margaret River region, we have decided to group them all in one map that is easy to navigate. You'll be able to find the most popular wine destinations, but also small family wineries that often go unnoticed. In addition, we have marked down some of the top attractions the South West has to offer.
Main Wineries Worth Visiting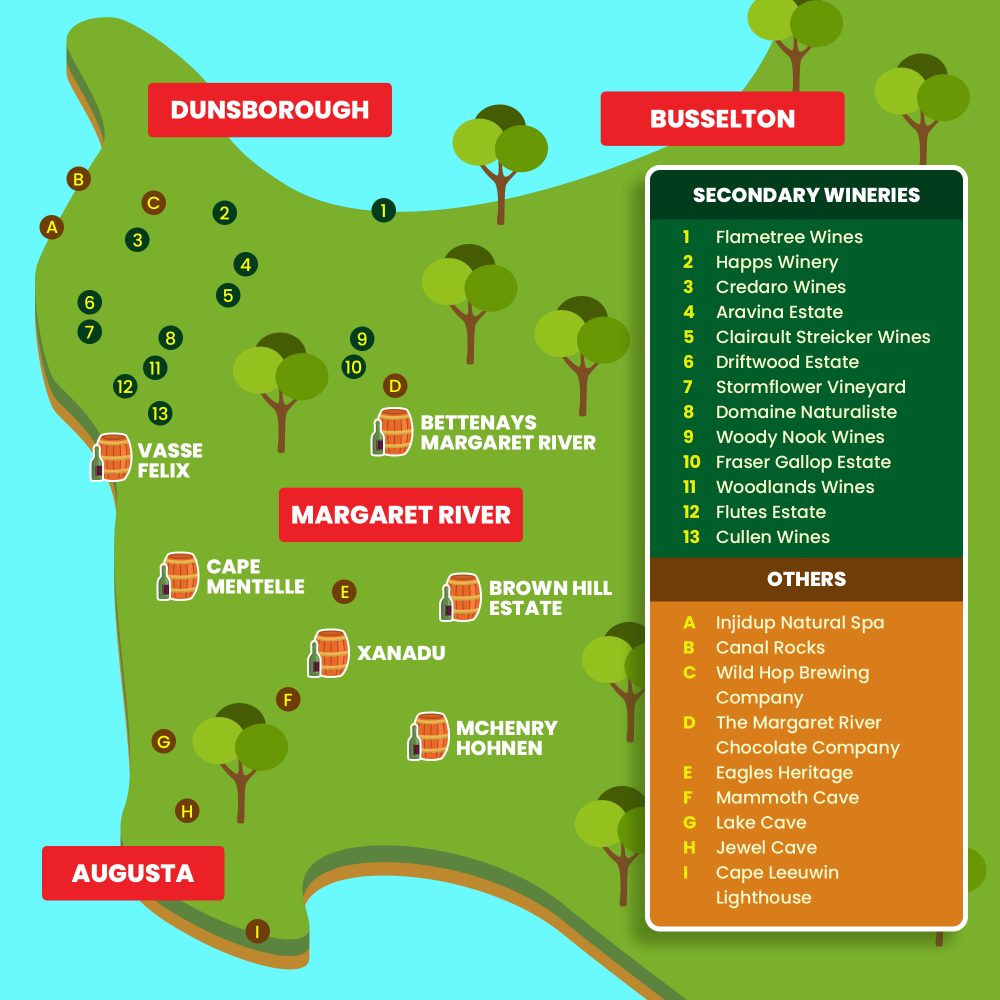 Cape Mentelle

(source : Cape Mentelle)
Nestled in the heart of the Margaret River wine region, Cape Mentelle is a must-visit destination for any wine enthusiast. Established in 1970 by David Hohnen, this prestigious winery has played an instrumental role in putting the region on the global wine map.
Known for its exceptional quality and distinctive varietal expressions, Cape Mentelle's portfolio includes award-winning Cabernet Sauvignon, Chardonnay, Sauvignon Blanc-Semillon, and Zinfandel.
The winery's picturesque grounds, complete with ancient Jarrah and Marri trees, provide a serene and idyllic setting to enjoy a guided tasting of their exquisite wines. Moreover, Cape Mentelle offers a range of unique experiences for visitors, such as the "Behind the Scenes" tour that delves into the winemaking process, or the "Movies at Cape Mentelle" outdoor cinema nights, where guests can relax and enjoy a film under the stars.
With its rich history, superb wines, and unforgettable experiences, Cape Mentelle truly embodies the essence of the Margaret River wine region.
McHenry Hohnen

(source: McHenry Hohnen)
McHenry Hohnen is a boutique winery that has garnered a well-deserved reputation for producing distinctive wines that reflect the terroir of the Margaret River region. Founded in 2004, McHenry Hohnen operates with a unique passion for wine, sustainability, and innovation.
The winery focuses on crafting single-vineyard wines with minimal intervention, allowing the unique character of each site to shine through. Their impressive range includes Chardonnay, Sauvignon Blanc, Semillon, Cabernet Sauvignon, Shiraz, and Grenache, as well as some intriguing blends.
The McHenry Hohnen cellar door experience offers visitors the opportunity to taste their exceptional wines in a warm and inviting atmosphere, while learning about their biodynamic farming practices and commitment to preserving the natural environment.
A visit to McHenry Hohnen is a must for those seeking an authentic and memorable Margaret River wine experience.
Vasse Felix

As the first established winery in the Margaret River region, Vasse Felix holds a special place in the hearts of wine lovers. Founded in 1967 by Dr. Tom Cullity, the winery has a rich history of producing outstanding, elegant wines that showcase the region's diverse terroir.
Renowned for its premium Chardonnay, Cabernet Sauvignon, and Semillon Sauvignon Blanc blends, Vasse Felix has consistently earned accolades and recognition on the global stage.
The stunning estate invites visitors to explore the art of winemaking through guided tours and tastings in their state-of-the-art cellar door, set amidst the backdrop of lush vineyards and pristine native bushland. The Vasse Felix experience is further enhanced by their award-winning restaurant, where guests can indulge in a culinary journey that celebrates seasonal, locally-sourced produce paired with the winery's exquisite wines.
As a pioneering force in the Margaret River wine scene, a visit to Vasse Felix is an essential stop for anyone looking to immerse themselves in the region's rich viticultural heritage.
Xanadu

(source: Xanadu Winery)
Located in the heart of the Margaret River region, Xanadu Winery is an enchanting destination that captivates visitors with its exquisite wines and captivating ambiance. Established in 1977 by Dr. John Lagan, Xanadu has evolved into a premier winery known for its outstanding single-vineyard Chardonnay, Cabernet Sauvignon, and Shiraz, as well as a variety of blends that express the region's diverse terroir.
With a strong focus on quality and innovation, Xanadu has consistently won awards and recognition at prestigious wine competitions, both nationally and internationally. The winery's beautifully designed cellar door offers visitors an inviting atmosphere in which to savour their exceptional wines, while knowledgeable staff share fascinating insights into the winemaking process and the history of the estate.
The on-site restaurant provides an unforgettable gastronomic experience, where seasonal, locally-sourced ingredients are skillfully crafted into culinary masterpieces, perfectly complementing Xanadu's fine wines.
For those seeking a truly immersive Margaret River wine experience, Xanadu Winery should not be missed.
Brown Hill Estate

(source: Brown Hill Estate)
Brown Hill Estate, situated in the picturesque Rosa Brook subregion of Margaret River, is a family-owned and operated winery that has been delighting visitors with its boutique wines since 1997. Founded by Jim and Gwen Bailey, Brown Hill Estate is a true labour of love, with the couple's son, Nathan, now at the helm as the winemaker.
This close-knit families dedication to quality is evident in their meticulous vineyard management and commitment to crafting exceptional wines that showcase the region's terroir. Brown Hill Estate portfolio includes a range of expressive varietals, such as Chardonnay, Cabernet Sauvignon, Shiraz, and Malbec, as well as captivating blends that highlight the winery's innovative spirit.
Visitors to the charming cellar door can enjoy a relaxed and intimate tasting experience, while learning about the family's winemaking philosophy and the unique characteristics of the Rosa Brook subregion.
For those in search of a genuine, family-focused winery that produces memorable wines, Brown Hill Estate is a must-visit destination in the Margaret River region.
Bettenays Margaret River

(source: Bettenays Margaret River)
Bettenays Margaret River is another family-owned and operated winery and nougat company, that offers visitors a truly unique and memorable experience in the heart of Western Australia's renowned wine region. Established in 1989 by George and Patricia Bettenay, the winery is now managed by their son, Greg, who shares his parents' passion for crafting exceptional wines and artisanal products.
Bettenays is known for producing a diverse range of varietals, including Cabernet Sauvignon, Chardonnay, Merlot, and Semillon, along with innovative and delightful blends that reflect the region's distinct terroir.
What sets Bettenays apart is its delightful integration of nougat production, allowing visitors to indulge in a wide variety of flavours that are expertly paired with the winery's outstanding wines. The welcoming and cosy cellar door provides an intimate setting for wine and nougat tastings, while the friendly staff shares fascinating stories about the family's journey and their dedication to quality.
For a truly one-of-a-kind experience that combines the best of Margaret River wine and artisanal offerings, a visit to Bettenays Margaret River is not to be missed.
Woody Nook Wines & Nookery Cafe
(source: Woody Nook Wines)
Family-owned Woody Nook Wines is a hidden gem waiting to be discovered. This boutique winery, surrounded by the breathtaking beauty of native Australian forest, prides itself on crafting exceptional single vineyard wines that fully express the unique terroir of the region.
Known for their rich, robust reds and elegant whites, Woody Nook consistently produces wines that delight the palate and exceed expectations. Their cellar door welcomes visitors to taste these distinctive offerings in a warm and inviting setting. 
Adjacent to the winery, you'll find the Nookery Café, an idyllic spot to unwind and indulge in a delicious meal while overlooking the vineyards. The Nookery Café provides an experience that goes beyond the typical vineyard visit, with a delightful menu featuring locally sourced and seasonally inspired dishes that pair perfectly with Woody Nook's award-winning wines.
Woody Nook's commitment to quality, from the vine to the glass, is evident in every aspect of your experience, making a visit to this winery a must for any wine enthusiast exploring the Margaret River region.
Top Attractions in the Margaret River Wine Region
Injidup Natural Spa

Located near the town of Yallingup, this enchanting spot features a natural rock pool, where crystal-clear turquoise waters are gently stirred by the powerful waves of the Indian Ocean. The sheltered pool, surrounded by stunning granite formations, offers a serene and tranquil setting for visitors to unwind and immerse themselves in the beauty of Western Australia's pristine coastal landscape.
The Margaret River Chocolate Company

With a vast selection of mouth watering chocolates, truffles, and other cocoa-based treats, the Margaret River Chocolate Company caters to a wide range of tastes and preferences, using only the finest ingredients and traditional European methods to craft their irresistible creations. Visitors can embark on a sensory journey at the company's spacious showroom, where they can sample a variety of chocolates, watch skilled chocolatiers at work, and even learn about the fascinating history and process of chocolate making.
Lake Cave

This ancient limestone cave, believed to be over one million years old, is renowned for its pristine underground lake and captivating calcite formations. The crowning jewel of Lake Cave is the breathtaking "Suspended Table" – a massive, delicate crystal decoration that seems to defy gravity as it hovers above the tranquil lake. Guided tours of the cave provide fascinating insights into its geological history, as well as the delicate ecosystem that thrives within its depths.
Jewel Cave

As the largest show cave in Western Australia, Jewel Cave boasts an impressive array of intricate crystal formations, including stalactites, stalagmites, helictites, and flowstones that have formed over thousands of years. One of the cave's most striking features is the "Frozen Waterfall," a stunning array of calcite crystals that resembles a cascading flow of water, frozen in time. Guided tours offer visitors the opportunity to delve deep into this enchanting underground world and learn about its unique geology, as well as the ancient megafauna fossils discovered within its depths.
Cape Leeuwin Lighthouse

As the tallest lighthouse on mainland Australia, Cape Leeuwin Lighthouse offers visitors a unique opportunity to experience breathtaking panoramic views from its observation deck, showcasing the rugged beauty of the surrounding coastline. Guided tours provide fascinating insights into the lighthouse's history, its vital role in maritime navigation, and the lives of the lighthouse keepers who tended to its beacon throughout the years.
Eagles Heritage

Home to Australia's largest collection of birds of prey, Eagles Heritage wildlife centre is an unforgettable stop on any trip to the Margaret River region. The sanctuary provides a unique opportunity to come face-to-face with some of the country's most majestic birds, offering daily flight shows which will leave you awe-struck. Set within a spacious natural bushland setting, Eagles Heritage prides itself on its focus on conservation and education. For both nature lovers and families alike, Eagles Heritage offers an experience that is as educational as it is exhilarating.
Mammoth Cave

Mammoth Cave is a stunning ancient limestone cave offering a fascinating journey into the Margaret River region's prehistoric past. As you meander through its large chambers on a self-guided audio tour, you'll be captivated by the stunning formations of stalactites, stalagmites, and flowstones, which have been thousands of years in the making. The cave is also an important paleontological site, having revealed numerous fossils of extinct Australian megafauna. A visit to Mammoth Cave is a step back in time and an absolute must for those seeking both adventure and tranquillity in the heart of Margaret River.
Canal Rocks

Canal Rocks, located in the Leeuwin-Naturaliste National Park in the Margaret River region, is a stunning geological formation consisting of a series of granite rocks jutting out of the Indian Ocean. A timber walkway provides a perfect vantage point to marvel at the natural canals and inlets created by the rocks that the waves crash through, with dramatic effect. During calmer sea conditions, the clear, turquoise waters provide a beautiful contrast to the rugged grey rocks, making it a photographer's dream. Just a short drive from Yallingup, Canal Rocks is an unmissable destination for those who appreciate the grandeur of Western Australia's coastline. 
Wild Hop Brewing Company

(source: Wild Hop Brewing Company)
Wild Hop Brewing Company, located amidst a stunning landscape, overlooking a dam and surrounded by lush native bushland, is a true haven for beer enthusiasts. Known for their "freestyle brewing," Wild Hop pushes the boundaries of traditional brewing, offering an ever-changing lineup of innovative beers that capture the essence of their surroundings. Their on-site kitchen also serves up a delicious, locally-sourced menu, ensuring you can pair your craft beer with equally impressive food. With a strong commitment to sustainability and a genuine love for the craft, a visit to Wild Hop Brewing Company promises a taste of some of the best beers in Western Australia.
Visit Margaret River with Harvest Tours
As one of the most renowned tour companies in the region, Harvest Tours can take you to visit the best wineries in Margaret River – including the ones mentioned above. Enjoy premium wine without the stress of driving, and taste the best food our southern region has to offer.
Discover our private wine tours in Margaret River and book yourself a well-deserved vacation filled with wine tasting in the countryside.