The Margaret River region is a popular holiday destination for families – and it's easy to see why! There are endless fun things to do to keep everyone entertained, and plenty of great places to visit to sample delicious local produce and cuisines. Harvest Tours can help you create your own extended Private Family Charter. 
Take a look at some of the things to do in Margaret River with kids for your next holiday in the Margaret River region: 
Amaze'n
This giant half hectare hedge maze will delight the kids and adults alike. Explore all together, or have a race to the middle! 
There are plenty of other activities on offer including 18 hole mini golf, a playground and stunning gardens with outdoor games. Make a day out of it and utilise the gas barbeques and shaded picnic area. 
Located only just outside Margaret River town, Amaze'n is conveniently close for those staying in Margaret River itself.  
Cape Leeuwin Lighthouse 
Constructed out of limestone in 1895, Cape Leeuwin Lighthouse is the tallest lighthouse in mainland Australia. It's located at the most south-westerly point of the country where you can see the Indian Ocean and the Southern Ocean meet. 
The tour guide will take you through the entire complex which includes the keeper's cottage, museum, and of course… the lighthouse. Immerse yourself in the history and life of the original lighthouse custodians and experience the breathtaking landscape the area has to offer.  
Cape Naturaliste Lighthouse 
With only 59 steps to climb, Cape Naturaliste Lighthouse is an accessible attraction even for small children. Short 30-minute tours will take you through how the lighthouse functions and its rich history. The top balcony provides tourists with breathtaking views of the Indian Ocean and the surrounding landscape. Combined with the observation platform at the lighthouse's base, the balcony is a great spot for taking pictures of the Australian coastline and its wildlife.
Caves
It's not a trip to the Margaret River region without visiting at least one of the local caves. 
Ngilgi Cave
Located in Yallingup, Ngilgi Cave offers a convenient 'semi-guided' tour. Before entering the cave, the tour guide will give you a brief introduction to the cave including history. Each visitor will receive a headset to input their location to learn more about that part of the cave. 
Lake Cave 
Lake Cave is the only cave in Western Australia with a permanent lake, offering incredible photo opportunities. The tours of Lake Cave are fully guided and run throughout the day. Entry into Lake Cave is included in our Indulge and Discover Tour. 
Mammoth Cave
Mammoth Cave contains fossils from Australia's megafauna, an interesting fact to excite the kids. As Mammoth Cave is unguided, you can arrive at any time during opening hours and be admitted to the cave. There is an option for a headset to take a 'semi-guided' tour throughout the cave. 
Jewel Cave
The largest cave on display in Western Australia, Jewel Cave is known for its beautiful crystal formations. The tour is fully guided, and it takes about an hour. 
Eagles Heritage 
One of Australia's largest wildlife centres, Eagle Heritage is dedicated to rehabilitating injured and orphaned birds of prey. Meet eagles, falcons, hawks and owls up close, and learn about their life, behaviour, and hunting techniques. 
Tours run twice a day and are perfect for children who have an interest in animals and nature. You can even have your picture taken with a barn owl!
Busselton Jetty 
An absolute must-see when visiting Margaret River and surrounds, Busselton Jetty extends 1.8km over the waters of Geographe Bay. If you're feeling brave, walk the entire length of the jetty or take a ride on the jetty train for those with little legs.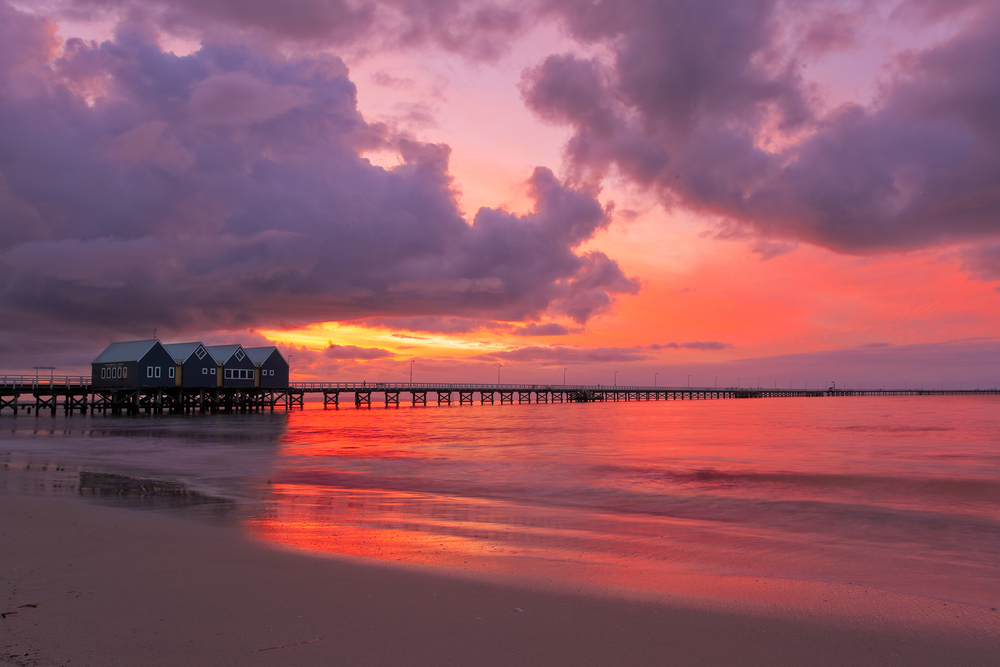 The spectacular underwater observatory invites you into a whole new world, allowing the kids to discover more than 300 marine species in their natural habitat. 
Wild Hop Brewery 
Family-owned and operated, Wild Hop is a local West Australian brewery providing a family-friendly environment where to have some good beer. The rotating tap menu means that there is always something new to try. The brewery is kid-friendly and dog-friendly and is a perfect place to stop on your way to Margaret River.
Geographe Bay
Stretching from Busselton to Cape Naturaliste, the coastline of Geographe Bay is full of beautiful beaches with turquoise waters, perfect for swimming or enjoying the serenity. Take a look below for some of the best beaches around Margaret River. 
Meelup Beach 
This protected beach is located close to Dunsborough. Public barbeques and other amenities make this a great spot to set up for the whole day and enjoy a swim and a picnic. 
Gnarabup Beach 
The kids will love jumping off the jetty into the blue waters, and the whole family can enjoy a treat at the popular White Elephant Cafe. 
Hamelin Bay
This sheltered bay is a haven for marine life, making it a fantastic location for swimming and snorkelling. Summer is the best time to visit if you're hoping to see the Hamelin Bay stingrays, although you may see them all year round. Just remember that they are wild animals in their natural habitat, and keep a respectful distance. 
Forest Adventures 
Located just outside of Busselton, Forest Adventures has over 77 activities to offer across 6 courses of varying height and difficulty. Have a fun adventure in the middle of the Tuart Forest with activities such as unicycling, Tarzan ropes, BMX on a wire, and  over 500 m of flying foxes. All courses have world-class safety standards and are suitable for people of all ages and abilities.
Dolphin Discovery Centre 
Explore the boat tours and feeding programs that the Dolphin Discovery Centre has to offer. Located in Bunbury, the centre is a must-go destination for anyone looking for a close encounter with dolphins. You can choose between going on a 90-minute dolphin-watching cruise or a 3-hour one that allows you to swim with them. Other options include visiting the centre's aquarium or feeding the dolphins from the shoreline. All of these activities are family-friendly and guaranteed to create long-lasting memories.
There's certainly no shortage of things to do in Margaret River with kids. For an enjoyable and stress-free trip, check out our Harvest Tours Margaret River experiences. We take the overwhelm out of planning your itinerary and ensure you get to see all the attractions on your must-see list – and potentially a few you didn't even know about! We've got plenty of kid-friendly tours suited to the whole family, and we look forward to having you along and making your trip one to remember.