The Margaret River region offers some of the most beautiful natural sights in Western Australia, from rugged coastlines to lush bushland, and one of the best ways to experience this unique wilderness is with a hike! Not everyone is a master hiker, but don't worry, there are options for every fitness level, and even accessible options, so that every tourist can enjoy exploring the natural beauty of the region. The local experts at Harvest Tours have put together a detailed list of the best walking trails in Margaret River, so that you can choose the one that interests you the most.
Easy Hikes For Chilled Wanderers
Cape Naturaliste to Sugarloaf Rock – Dunsborough
Why should you choose this trail?
This trail is actually a small section of the Cape to Cape track – so it's a great option if you want to experience part of this iconic southern walking trail but don't have enough time to do the whole thing. It runs south from Cape Naturaliste to Sugarloaf Rock, which is one of the most photographed rocks in the state!
Who is it suitable for?
This trail is perfect for a family with people of various ages and abilities, as the track is made of bitumen and has been properly levelled, so it's wheelchair accessible and pram-friendly. There is also a car park, toilets and picnic area at Cape Naturaliste Lighthouse – where you start the walk.
How long does it take?
The walk takes between 1 to 3 hours, depending on your walking abilities – and how many selfies you take with the stunning backdrop of ocean cliffs and rolling green shrubland! It's an easy 3.5 km long track, so you can wander along at your own pace – perhaps with the family – and just enjoy the picturesque views.
Wadandi Track – Margaret River
Why should you choose this trail?
If you choose the Wadandi track, you'll have the perfect snapshot of the South West's unique natural environment, as the track passes through bushland, farms and vineyards. It also follows an old railway line, so history lovers can take a step back in time and visit some local historic sights. The track crosses over a few bridges and rivers, and meanders through beautiful Jarrah and Karri forest.
Who is it suitable for?
The track is unpaved, but is a flat path, with gravel on most stretches, and this makes it an easy track to walk along. The Wadandi track is accessible for most fitness and skill levels, and a great idea for a family – especially if you take bikes!
How long does it take?
The Wadandi track runs from Cowaramup to Witchcliffe, passing through Margaret River on the way. It's 23 km long, and takes a full day of walking to finish.
Medium Hikes For Ambitious Explorers
Wardanup Trail – Yallingup
Why should you choose this trail
This trail has stunning views over Yallingup and Smith's beach, and most of the hike is spent wandering through pleasant bushland. The coastline near Yallingup is incredibly picturesque, with wild, crashing waves and steep cliffs, and you get to see these views in all their glory from the highest point of the walk.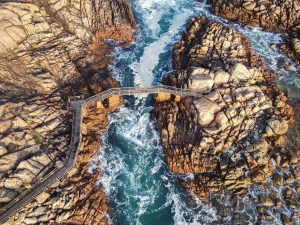 Who is it suitable for?
Wardanup trail is not for everyone, as the terrain is varied, with some steep climbs and a few sandy parts that are difficult to walk through. Most fit people will enjoy this trail immensely, and it's not a real trek, so you won't be exhausted afterwards.
How long does it take?
It's a 6.4km loop from Yallingup, out to Ngilgi Cave and a lookout, and then back to Yallingup. Depending on your fitness level, the trail can take 1 to 3 hours.
Bunker Bay Loop – Dunsborough
Why should you choose this trail?
The Bunker Bay Loop explores the eastern side of Cape Naturaliste, with gorgeous views out over the ocean as you wander through the coastal scrubland. At the right time of year, you can see a multitude of vibrant wildflowers, and there are several lookouts along the way to see Bunker Bay and Shelley Cove. There are views of the coastline, with exposed caves and rocky outcrops, towering above the turquoise water – and in whale migration season you might even spot some whales in the distance!
Who is it suitable for?
The path can be steep in parts, and it's quite rocky and sandy, so you'll have to be confident hiking on an uneven path. It isn't too long though, so you don't need to be really fit.
How long does it take?
Once again, this trail can take anywhere between 1 to 3 hours, as it's 3.6 km long, but you can easily wander slowly and look at the views. Also, it can take longer if you need breaks, luckily there are handy benches to sit on along the way.
Difficult Hikes For True Adventurers
Cape to Cape Track
Why should you choose this trail?
This picturesque trail is a real exploration of the Margaret River coastal region. If you want to go on a multi-day hike, where you immerse yourself in nature and experience a range of landscapes, then this is the right trail for you. See rivers, lush bushland, ocean views, steep cliffs and sandy beaches.
Who is it suitable for?
As the Cape to Cape is about a week long, it's best suited for experienced walkers. However, there is an option for stopping overnight in comfy accommodation, which makes it more accessible for a wide variety of fitness levels. There are parts of the track that are very difficult, as they include deep sand, or steep hills and rocky paths – you will experience a variety of terrains and need to be prepared for that.
How long does it take?
The Cape to Cape is 123 km long, and runs along the Leeuwin-Naturaliste ridge. It's called the Cape to Cape because it goes from Cape Naturaliste to Cape Leeuwin in the far south west corner of Western Australia. You can choose to start from the north or start from the south, it's up to you, but if you walk north to south you will keep the sun on your back. Strong winds come from the north west in winter, and the south east in summer, so you could base your direction on that as well. It will take you about 6 or 7 days to walk the trail, if you aim to walk 20-25km per day, but it depends what your aims are. If you power through as an expert hiker, then it may take less time, but if you want to take your time and enjoy relaxed picnics on the beach on the way, then it could take longer.
The Bibbulmun Track
Why should you choose this trail?
Although it's a bit further away from Margaret River, an article about walking trails in the south west would fall short if it didn't include The Bibbulmun Track. This iconic track is one of the world's great long distance walks, stretching from Kalamunda in Perth to Albany in the South. You can choose to do parts of it, perhaps trekking between Balingup and Pemberton, or you can attempt the whole thing.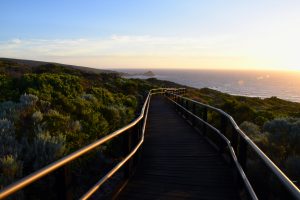 Who is it suitable for?
It has a great set-up, with 49 campsites along the way, spaced about a day's walk apart so that you have a spot to sleep each night. The campsites include three-sided timber huts to shelter in, toilets, rainwater tanks, picnic tables and tent sites. So, if you're a confident enough hiker to take on a multi-day trail, then this one will be a safe option with everything you need available. The track is still quite difficult in parts though, so you'll need to be reasonably fit.
How long does it take?
The Bibbulmun Track is 1000km long, and if you keep up your pace and stay in each campsite along the way, it should take eight weeks to complete. You can also do shorter stretches, and pick your favourite area to spend a one week hike instead.
Consider a Margaret River Tour During Your Stay
So, if you're keen to go hiking in Margaret River, pick up a map from the local visitor centre, grab a raincoat and a water bottle – and you're ready! Perhaps you'll feel like mixing it up after your hike, and if so, you should consider going on a Margaret River tour with Harvest Tours. We know all the best things to do in Margaret River, and offer a variety of tours for every type of tourist. After a strenuous hike, you deserve to be pampered, and we can provide delicious local food and premium wines for you to try on our tours. Contact us today to find out more.