Are you looking for the best wine the Margaret River region has to offer? If you are not a wine expert, it might be difficult to spot the best wineries in the area. That is why we have compiled a list of what we believe are the best Margaret River wineries.
This list will not only take into account good wine, but also the different varieties each winery offers and what makes them unique compared to other wines.
McHenry Hohnen
Located in the heart of the Margaret River region, McHenry Hohnen uses biodynamic methods to grow vines without the use of chemicals. The practice is very similar to organic farming but also takes into account astrological influences and lunar cycles. 
The winery offers a variety of different choices including Sauvignon Blanc, Chardonnay, Rose, and many more. Taste the uniqueness of biodynamically grown wine when you visit McHenry Hohnen winery in Margaret River.
Cullen Wines
Another winery that uses biodynamic methods, Cullen Wines has been producing good wine in Western Australia for over 50 years. The first vines were planted in 1971 and in 1995 the winery adopted biodynamic farming. 
Some of their most iconic wines include Cabernet Sauvignon, Chardonnay, Malbec, and Sauvignon Blanc. All these can be enjoyed in an authentic Australian farmhouse-style cottage situated in the middle of the vineyards.
Vasse Felix Estate
Another vintage winery in Western Australia, Vasse Felix was established in 1967, and in 1972 they bottled their first wine. Their organic viticulture program ensures vines are sustainably grown and that the Margaret River soil is kept in optimal conditions.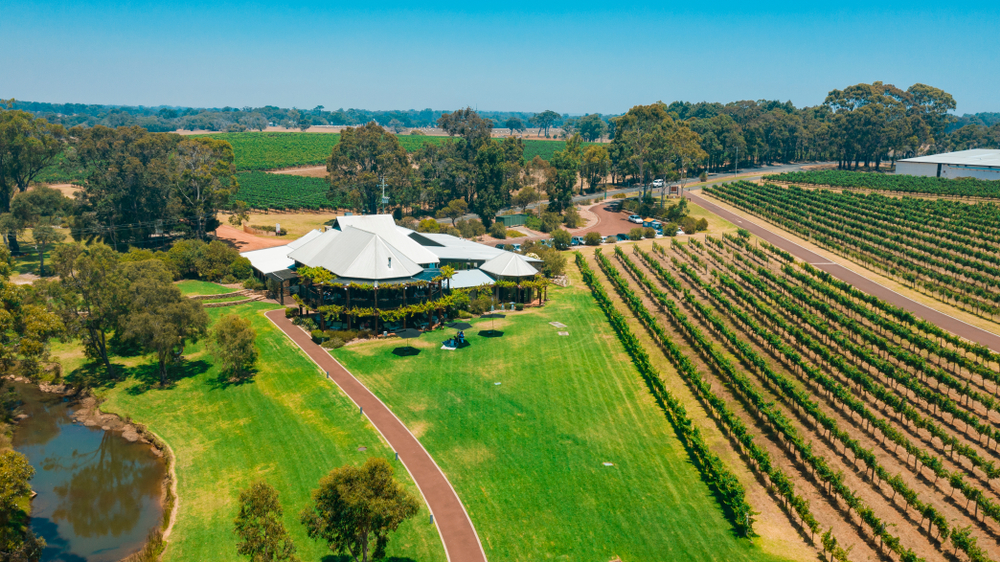 Vasse Felix is renowned for its iconic Cabernet Sauvignon and Chardonnay. Some other classic options include Shiraz, Sauvignon Blanc, and Rose. You can enjoy all these wines paired with a 5-star meal at their winery's restaurant.
Leeuwin Estate
Another well-known name in the Margaret River wine region, Leeuwin Estate has been producing premium wine since it bottled its first vintage in 1979. What's unique about the winery is its strong relationship with the art world and Australian art in particular. The Leeuwin Estate Art Gallery is home to spectacular art pieces from famous artists such as Arthur Boyd, John Olsen, Sir Sydney Nolan, and many more. 
Enjoy some nice Cabernet Sauvignon, Chardonnay, Riesling, and many more while gazing at the fine Australian art found at the Leeuwin Estate Art Gallery. Alternatively, you can take your wine tasting at the winery's restaurant which is ranked in the Top 100 WA restaurants.
Voyager Estate
Renowned for its wine, but also for the good food, Voyager Estate is a popular destination amongst wine lovers in Perth and abroad. Their garden-to-plate restaurant augments the wine-tasting experience, giving people the chance to taste both Australian wine and Australian food. 
 Popular wines at Voyager Estate include Cabernet Sauvignon, Shiraz, Chardonnay, Chenin Blanc, and Rose. Experience these fine wines on their own or paired with a locally-sourced meal from the winery's garden.
Brown Hill Estate
Last, but not least, Brown Hill Estate is a great winery to visit if you are interested in seeing how wine is made. People can visit the cellar door located within the winery, and find out everything about how Brown Hill Estate makes good wine. This tour is a must for any wine lover travelling to the Margaret River wine region. 
Like most wineries in the region, Brown Hill Estate is renowned for its Cabernet Sauvignon, Chardonnay, and Sauvignon Blanc. But the winery also offers fine Malbec, Rose, Merlot, and Semillon. If you are looking for variety, Brown Hill Estate is the destination for you.
Travel in style with Harvest Tours 
If you are planning a wine tour to Margaret River, then why not do it in style? Harvest Tours is the go-to place for touring the Margaret River wine region. Our friendly team will pick you up from Perth and take you to see some of the best Margaret River wineries, including all the ones mentioned above. 
Our tours are not limited to wine, they also include lunch at wineries and popular destinations like Margaret River Chocolate Factory, Wild Hop Brewing Company, and the local caves. Check out our comprehensive range to see which one suits you best:
For any queries contact our friendly team at (+61) 0429 728 687 and we will provide all the information regarding our wine tours in Australia. Alternatively, you can book through our website www.harvesttours.com.au